​So many creatures live in the hedgerows, in burrows, nests and cozy little houses.  Near the house are so many lovely little spots, this is a little pathway that leads from the vegetable garden though to the orchard.   If you look closely you can see a basket of baby carrots, berries and lettuce that Frank has picked and left for a shy neighbor to collect.
Here is a picture of the apple orchard, you can often find evidence of friends who have visited, an old ladder propped against an apple tree, a little basket of fruit or blanket on the ground.
​I spotted this little satchel hanging on a thorn in the brambles,  I think it must belong to one of the lovely deer mice who live in the woodshed.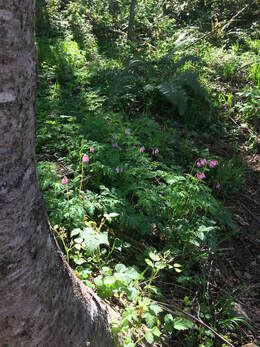 In the springtime bleeding hearts grow wild among the ferns, along the path at the top of the lane.  After a cold winter they lift my spirits and I love to watch as they dance in the gentle breeze.
I found this liny handkerchief that had been hung out to dry on a wild rose bush.  I can't be sure who it belongs to, but if I have to hazard a guess I would think perhaps a chicken as it has the vintage country feel they like.
In the Wild Woods the creatures do not tend to live along the main path but prefer to make their homes deep in the trees.
If you climb up high above the tree line where the sun shines down on the rocky ground you can find beautiful wildflowers and plants that create wonderful homes for butterflies, bumble bees and other small creatures.